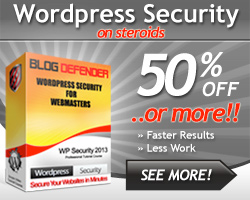 Don't think that you're too small to be hacked, or that it won't affect you!
A while ago, a couple of my friends had their main blog sites hacked quite badly, and so from that, we all installed a couple of plugins that would notify us of any interference.  But there wasn't an easy solution.
Then a few weeks afterwards, I got automated emails from those plugins telling me that some of my WordPress files had been changed, and that it had stopped some executable hacks being uploaded.
That was all well and good, but it didn't help me to prevent the attacks in the first place.
Then recently, over the past month, I've had daily alerts to this type of thing:


Not ideal, especially as I had no idea how to resolve this.  I should point out here that it isn't the hosting company's responsibility to sort out hacking attacks.  So I was on my own.
(Why anyone would want to hack my sites is beyond me – perhaps they wanted more purple in their lives!).
There's a lesson in that – don't think that hackers only go for big, uber-successful blogs.  I have a shared hosting plan, so all my domains run through the same hosting account.  Worryingly, this means that once the hackers can get into one site, they can access them all (and no, I don't understand the technical details behind it, but the emails telling me my files have been interfered with have been for several of my domains – some of which don't even have sites on them at the moment!).
So, what can you do?
Until recently, your options were either to muddle through yourself, Googling a variety of ways to deal with these issues, or pay a web security expert to sort it out for you.
Then along came Blog Defender.
Full disclosure here: I was moaning on Facebook about people interfering in my websites after I'd had a deluge of the warning emails, and I was kindly offered the chance to test out this product.  So yes, the link you'll see later on is my affiliate link.
Anyway.
I was at the stage where I needed help – I couldn't manage this on my own, and I don't have nearly enough technical expertise to go fishing around by myself in the depths of my sites.
So Blog Defender came along at the perfect time for me.
Firstly, it details all the issues that can arise from hacking (I warn you now – this can be quite scary!).  Then once you're in the members area you get 16 videos to guide you step-by-step through the processes to follow to make your sites secure, along with a checklist to follow (you can print this off – I have!).
Also, this can be for as many of your sites as you wish – I bought something the other day that I thought would be useful, and then found out I can only use it on one site.  This isn't the case with Blog Defender – once you've got it, you can use it on all of your sites.  In fact, you can then offer it out as a service to your clients, thus potentially providing another income stream to your business.
So what do you actually get?
You get an overall introduction to the training videos, including links to free plugins where appropriate (about a third of the training).  I should point out that there are over 100 minutes' worth of videos in the members area; so this does go into detail!
The rest of the videos walk you through a variety of processes to ensure that your site can be secured.  Matt has an excellent teaching method in my opinion, as I found the videos easy to follow with clear instructions, and explanations for why we were advised to take certain actions.
These videos start with the basics and move on to more advanced methods; all of which should be employed for the best chance at securing your site.
I don't know about you, but I like taking notes as I work through, as then I can speed the process up for the next time.  That way, as I secure subsequent sites, I can take less time doing it.
I have made all of the recommended changes and updates to my main site following the instructions within Blog Defender; so now I am off to secure the rest of my sites (might need a cup of tea first!).
If hacking is something that you're concerned about (which you should be if you have any presence online in the form of websites or sales pages), then I suggest you take a look at Blog Defender and secure your WordPress sites against the hackers.
How about you?  Have you ever had any of your sites compromised?  What effect did that have on your business?
I leave you with one final question for you to consider: what value do your put on your sites and your mailing list?  It's scary to think how quickly it can all be taken away from you.  So go and check out Blog Defender – prevention is always better than cure.
Speak soon,
Nikki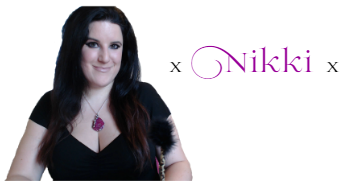 If you've enjoyed this post, I'd be grateful if you'd share it with your friends or anyone else that you feel it could help.
http://nikkistephens.com/wp-content/uploads/2017/08/Enfold-logo-purple-metallic-clear-background.png
0
0
Nikki
http://nikkistephens.com/wp-content/uploads/2017/08/Enfold-logo-purple-metallic-clear-background.png
Nikki
2012-12-10 15:28:58
2016-06-30 18:56:07
Stop your sites from being hacked!