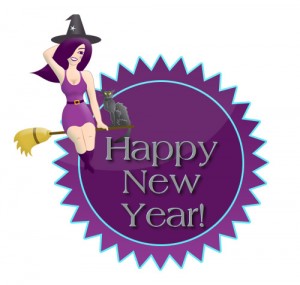 Happy New Year!
I hope wherever you are that you've had a great time celebrating and seeing in the New Year.
For me in the UK, that will be in a few hours' time.
I'm having a quiet one this year; last year my boyfriend and I went to a party dressed as Morticia & Gomez Addams (from The Addams Family) – I know, not much of a stretch for me to dress up as a gothic witch! But it was a great night & we didn't get home till gone 6am.
This year, Chris is coming over to mine, we're going to cook together (how old do I sound now?!) and then chill together to see the New Year in.
For me, as I'm sure it is for many people, the New Year is a time to reflect on the year just gone, and to make plans and get excited about the year just beginning.
What went right, what went wrong, what have I learned, and what will I do to improve my life?
Some of my personal highlights of 2011 include:
– Visiting Rome twice
– Maintaining a very happy and successful relationship
– Taking a brilliant coaching course that's made a whole world of difference to my online career
– Making lots of new friends both online and offline
– Improving my work / life balance (now, where's that lottery win to make it even better?!)
– Spending time with my family and friends
– Chasing away most of my online fears (being seen in front of a video camera, for example)
– Taking better care of myself and my health – after my illness at the end of 2010 I've made a real effort this year to listen to my body
– I moved house as well – not easy when you own as much stuff as I do!
That's a good start on the list anyway.
I've achieved a fair amount in 2011, and have had some great times with some fabulous people. To me, that's what life is all about – having a great time and making the most of every opportunity.
So with that in mind, I'd like to raise a toast to you & yours…(feel free to drink whatever you like; it won't surprise you that I have a cup of tea by me as I'm typing this!).
I wish you a very Happy, Successful, Joyful, Prosperous, Healthy, Exciting and Fantastic New Year!
With very best wishes from me, enjoy yourselves!
Nikki
P.S. How about you – have you made resolutions, or looked back on 2011, or made plans / goals / actions for 2012? Let me know in the comments below!
P.P.S. There'll be a couple of new pages added here soon, so there'll be even more of the Purple Minxy Witch for your enjoyment!
If you've enjoyed this post, I'd be grateful if you'd share it with your friends or anyone else that you feel it could help.