Oh dear.  I think I will regret this!
25 weird, wonderful things about the Purple Minxy Temptress.
What, they have to be suitable for public consumption?  Oh.  Then it'll be about 2 things that I can share with you.
The Gaz-Man started this for me in fact on his blog, so I might use those as starting points.
"Oh, yeah! I hope Nix does this. It'll be a scream.
Here's a few:

Hates oysters…

Hates seafood…

Loves purple…
Detests spelling mistakes…"
I'm also reading Linda's, Renee's, and Hilary's answers for inspiration – so somewhere between that are my 25 things:
1.   I'm 5'7″ when barefoot.  Usually wearing heels though, so more like 5'10 / 5'11"
2.  I'm one-eighth Italian (yes, I know, not really enough to count, but it makes me sound a little more exotic)
3.  The only television I watch is either music channels or comedy quiz panel shows – like Never Mind The Buzzcocks, QI, Mock The Week etc.  I can often be found dancing around my house to the music channels.  I don't do news, or soaps, or any reality TV stuff.
4.  My favourite cocktail is Sex On The Beach
5.  But no, I have never tried the 'other' variety.  Sand friction burns don't appeal.  If I could get around that though…hmm…
6.  I can't stand seafood, the sight, the smell, let alone the taste.
7.  I'm horrendously pedantic about spelling.  I know, I should get out more.  I can't help it, it's ingrained.  Although I find it a lot harder to spot in my own work!
8.  I am easily distracted by shiny sparkly things (especially purple)
9.  But do not ever underestimate me or think that I am superficial – I run a lot deeper than some people realise.
10.  I am a complete and utter tea addict.  But of all the things in life to be addicted to, I really don't think tea is the worst.
11.  I have had a couple of burlesque lessons, so could rustle up a burlesque routine (think corsets, fishnets, high heels, feather boa etc)
12.  I have also had a lapdancing lesson so have a routine for that as well.  Complete opposite of burlesque!  But I haven't had the chance to practice on a real person yet, other than the poor woman I was paired with when we did the lesson in the first place.  She probably still hasn't recovered!
13.  I'm an Aries, and do tend to follow the majority of Aries traits (hot-headed, impulsive, independent, fiery etc!)
14.  I'm completely obsessed with cats.  Humans I'm not so bothered by, but cats, definitely.
15.  I'm a great multitasker.  But then I'm female!
16.  Er, I'm female (yeah, like none of you had realised that!).
17.  I'm left-handed.
18.  The most important person in my life is my brother.
19.  I have never been abroad and I don't even own a passport (although I did go on a somewhat disastrous school trip to France when I was about 12 – though I try not to remember that).
20.  One of my best friends happens to be one of my ex-boyfriends.
21.  I have a slight obsession with animal print.
22.  My favourite film trilogies are Star Wars (the original trilogy, none of this 'modern' nonsense with Jar-sodding-Jar Binks or whatever it was called), Lord of the Rings, and Pirates of the Caribbean.
23.  I'm an extremely loyal friend to those I choose to care about.  Although don't ever cross me.  There's a quote from Shirley Manson (lead singer of Garbage) that I read when I was about 15 and identified with – "If you f**k with me, I'll f**k with you back.  And I'll wipe the floor with you.  It's as simple as that".
24.  I'm fascinated by lyrics in songs.  Or just words generally for that matter.
25.  I love anything with humourous and sarcastic wit.
26.  If I could be anyone for the day, then it would have to either be Immodesty Blaize or Dita Von Teese.
27.  I don't do regrets.  Seriously, I regret nothing that I have ever done or not done, because I choose to learn from every experience.  OK, so I might have done some stupid things, but without the lessons learned from doing those, I wouldn't be the person that I am today.
The rest of the things are too rude or too intimate to share really!
Yes, I know, I went over my 25.  I'm like that.
What do you think?  I view myself as a reasonably straightforward open person, so I don't think a lot that I've said above will surprise anyone.  Thoughts / comments?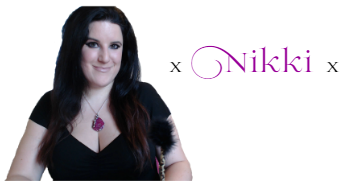 If you've enjoyed this post, I'd be grateful if you'd share it with your friends or anyone else that you feel it could help.
http://nikkistephens.com/wp-content/uploads/2017/08/Enfold-logo-purple-metallic-clear-background.png
0
0
Nikki
http://nikkistephens.com/wp-content/uploads/2017/08/Enfold-logo-purple-metallic-clear-background.png
Nikki
2009-02-16 11:07:59
2016-06-30 20:05:25
I Am The One & Only - Nobody I'd Rather Be!