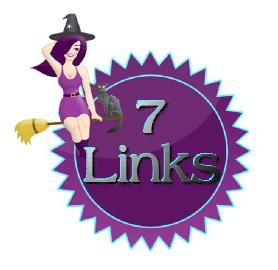 Barry Wells kindly tagged me as one of his 5 nominations, so as I can't resist a challenge, here I am!
If you're wondering what the Seven Link Challenge is all about, then this should give you the info (taken from http://www.tripbase.com/blog/my-7-links-the-rules/)
My 7 Links: The Rules
Welcome to the My 7 Links home page.

THE GOAL

To unite bloggers (from all sectors) in a joint endeavor to share lessons learned and create

a bank of long but not forgotten blog posts that deserve to see the light of day again.

THE RULES

1) Blogger is nominated to take part

2) Blogger publishes his/her 7 links on his/her blog – 1 link for each category.

This shouldn't take you long to do – don't over-think it!

– Your most beautiful post
– Your most popular post
– Your most controversial post
– Your most helpful post
– A post whose success surprised you
– A post you feel didn't get the attention it deserved
– The post that you are most proud of

3) Blogger nominates up to 5 more bloggers to take part.

(Feel free to nominate any kind of blog to take part – we want this project to be as inclusive as possible!)

4) These bloggers publish their 7 links and nominate another 5 more bloggers

5) And so it goes on!
So, I've been on a rummage back through the archives of my blog to dig out the ones that I think fit within each category. It's funny; some were easy to identify, and some took me a little longer (and a few cups of tea & a debate or two with myself).
Without further ado, here are my 7 links:
…………………..
My Most Beautiful Post:
Actually, this one is quite easy. Some of you will have seen this post already, but it's a personal post about my relationship and overcoming my fear of commitment (or maybe it was just that I finally found someone as mad as me!).
http://nikkistephens.com/personal/sometimes-you-should-just-take-a-chance/
…………………..
My Most Popular Post:
Now, I do have one that has more comments than this, but that's because we were having a blog comment dialogue on there, so it isn't the most popular in the truest sense.
In fact, I shall just skim over my recent posts and see which has the most comments (other then the one I've just mentioned, and the one in the answer above…give me a moment…)
http://nikkistephens.com/online-business/video-marketing-tutorial-email-management/
It's my first ever Camtasia tutorial video, so it has the black bars of death (note to self; record PowerPoint at 16:9 ratio to prevent that happening!). But it got the most comments to date, so there it is!
…………………..
My Most Controversial Post:
Unusually for me, I don't think that I have anything controversial on this blog. There's lots of talk of tea drinking & purple nonsense, but nothing of any controversy.
Maybe I shall have to go and create something specifically!
So…I'll have to pick http://nikkistephens.com/online-business/how-much-is-too-much/ – a post about frequency of emailing your list – that's the nearest to controversy that I have for now!
…………………..
My Most Helpful Post:
Hmm, this one is difficult to judge. Quite a few people have commented on a variety of my posts to say that the information that I have provided has been of use to them. Decisions decisions; which one do I pick?!
I'm going for this one:
http://nikkistephens.com/online-business/check-out-my-brand-spanking-newly-revamped-blog/
As the free report that I offered there on how I revamped my blog got a lot of praise from people, and has been accessed by over 183 people (according to my link cloaking software!). So that highlighted to some people that I can provide useful information over here, and from that I've created the free Easy Video Player report plus a whole host of videos (you can see those on my YouTube channel).
So as this is kind of where it started, I'll go for that!
…………………..
A Post Whose Success Surprised Me:
This one is an old post that I've found – it's about remembering to take time out for you, as if we aren't looking after ourselves then all of this becomes pointless.
http://nikkistephens.com/online-business/self-worth-and-success/
But looking at it, it had a lot of comments at a time when I wasn't getting so many…so that qualifies for 'surprising success' I think?!
…………………..
A Post I Feel Didn't Get The Attention It Deserved:
I had trouble thinking of one until I went fishing through my archives. My first adventure to Rome only got 7 comments, and that just doesn't seem enough given how much detail I put in there! That being said, I know most people have got thoroughly bored with me talking about Rome all the time, but here you go: http://nikkistephens.com/personal/rome-wasnt-built-in-a-day-the-adventures-of-the-pmw/
(There's lots of pictures if you aren't in the mood for reading!)
…………………..
The Post That I Am Most Proud Of:
To be fair I'm proud of a few of my posts. The first one I linked above, for example, where I was really open about my feelings for once. However, I'm going to pick this one because it showed how far I was progressing through my Learn With Sally coaching – prior to taking that course, I had always avoided video marketing and the thought of appearing in front of a camera filled me with dread.
But I faced my fears and so this post shows me in front of the camera for the first time ever (well, apart from that one time in Vegas…)
http://nikkistephens.com/video-marketing/understanding-easy-video-player-questions/
…………………..
So now I've shared my 7 links with you, I have to nominate 5 people to take part!
What does my crystal ball say…(other than "drink more tea"!).
Right, here goes:
Mandy Allen, co-student on the Learn With Sally course
Hilary Dickinson, was on Alex Jeffreys' coaching with me at the beginning
Nigel Yip, was an AJ student and also an LWS student with me
Sonia Hoque, a new friend that I have made in the IM arena.
Sally Neill, who is both my friend and my coach on the Learn With Sally course (and now the course has just finished, I'm sure she'd love to take up this challenge!!)
I don't think any of you have been nominated yet; apologies if you have!
So what did you think of the posts that I linked above?
This was quite a fun challenge for me, so I hope you enjoyed taking a look.
As always, leave me a comment to share your opinions.
Speak soon,
Nikki
If you've enjoyed this post, I'd be grateful if you'd share it with your friends or anyone else that you feel it could help.