Today was Sally's first tutorial webinar as part of her Learn With Sally coaching.  I couldn't make the introductory webinar the week before, so I was adamant that nothing would stop me attending this one (not even plagues, pestilence, or floods).
The webinar was scheduled for 9pm UK time, so at around 8.30 I fired up the laptop as I knew it would be troublesome (see my previous post for more details on my laptop issues).  My boyfriend had got my internet working at home again and the laptop had behaved when we tested it on Tuesday night…but then this laptop is much like me (No!  Not old & decrepit!  Bad people!  I mean it's temperamental and doesn't like doing as it's told!).  So I had a feeling there may well be trouble ahead (…"but while there's moonlight & music, and love & romance…let's face the music, and dance…") – ha, you can all have that in your heads now!
Oh, where was I.
Yes, trying to get my laptop to behave.  My router thing (technical term) was on, the lights were on indicating life, but would my laptop load any pages?  No.  It just decided that it couldn't load anything and I had to check the connection.  Bearing in mind my laptop was literally a metre (or 3 feet) away from the router, it's not like it had any excuse of wireless interference.  So I did the usual trick – turn it off & then back on again.  Same problem.  By now it was getting a lot nearer webinar time, and I wasn't online, I hadn't got my cup of tea ready, and all wasn't going well in my world.
Anyway, I eventually got it to load my email so I could click on the link to join the webinar…and then I discovered you have to download some stuff to your computer for it to work…aaarrrggghhh!!  By this point though my laptop had finally conceded that it would do as I wanted it to do, so after a couple of minutes downloading that, I got connected to my very first webinar.
Yes, you read that correctly – my very first live webinar!
Now, I don't know about you, but I always had this impression of webinars being glamorous affairs.  You know, the whole corporate kind of image, smart well-dressed people with modern computers and all that stuff.  Basically, the sort of scene depicted here: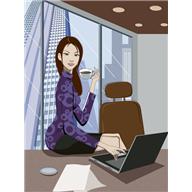 The reality for me – I don't know, should I even share this with you?  I'd had a shower beforehand (my hair takes ages to dry as it's long & thick so I figured I'd do that prior to the webinar so I wouldn't be up too late).  What do you mean, "too much information"?!  Hmm…anyway…my glamorous reality was me in my dressing gown curled up on my sofa with my headset on.  Wet hair, no makeup, very sexy zebra-print dressing gown.
This had me amused (how the reality wasn't *quite* living up to my ridiculously unrealistic expectations), and so I thought I'd share this with you.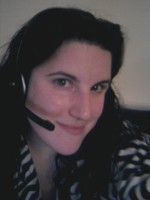 <
I know, I know – I look great…*cough*.  It's just as well I live by myself otherwise I'd terrify people all the time!
Sally's webinar was great, I took 4 pages of notes and I can't wait to go through all the accompanying tutorials that Sally has added to the members area. This blog will definitely be changing in appearance – don't worry, the purple will still be around, I'm not losing one of my unique selling points!
For now I must go and plot (she says stroking an imaginary cat & plotting world domination…mwah-ha-ha!).
I even spoke on the webinar.  Now, those of you that have met me in real life know that I tend to talk a load of rubbish at the best of times, so I should probably apologise to the others on the webinar for charging on in and talking.
It's funny – before Sally's course, I'd thought I wouldn't want to talk on a webinar, but when it came to it I just got on with it.
I'm sure I'll cringe listening to the replay though & hearing myself waffling on!  Mind you, I've just put a terrible picture of me on here…*sigh* I do like to share the randomness!
Here's to the next steps, and I'm taking you on them with me!
Bring it on!
Please leave me a comment and let me know what you think about webinars – as this is my first one, I'm really looking forward to subsequent ones.
Speak soon,
The not-so-glamorous Nikki
(oh come on, if you can't laugh at yourself then who can you laugh at?!)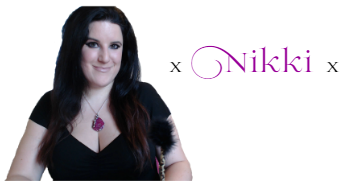 If you've enjoyed this post, I'd be grateful if you'd share it with your friends or anyone else that you feel it could help.
http://nikkistephens.com/wp-content/uploads/2017/08/Enfold-logo-purple-metallic-clear-background.png
0
0
Nikki
http://nikkistephens.com/wp-content/uploads/2017/08/Enfold-logo-purple-metallic-clear-background.png
Nikki
2011-08-04 23:00:50
2016-06-30 19:24:10
The Glamorous World of Webinars