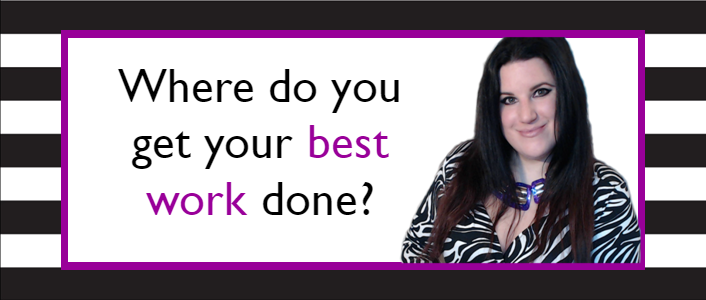 Do you have a home office? Do you work from cafes? Do you chill on the sofa in your PJs?
Mine seems to alternate. My best ideas seem to come when I'm in a café having a cup of tea & letting my mind drift. But I've never tried actually working in a coffee shop. I see lots of other people there with their laptops, but I don't know whether that would work for me.
A notepad & pen for doodling & writing ideas down, yes. Lugging my laptop around? Maybe not.
A while ago, I set myself up a desk in my Purple Room (my wardrobe room in my house – yes, I know!). But I keep using the desk as a dumping ground for clothes, handbags, and anything else I haven't put away. So I don't get much work done there!! However, I did go through a phase of using it, but the room didn't inspire me (probably because I'm surrounded by mess!) and it wasn't comfortable or inviting.
Sometimes, I work from my bed. This is fine for about 20 minutes, but then my back hurts & I get pins & needles in my legs (I don't have a supportive headboard, so I can't sit up against that).
Often, I work from the sofa, as I can shift positions when my legs go dead, and I can be comfortable. That is, until my boyfriend joins me. It's really weird, for some reason I don't like working next to him. I've no idea why! He works from home, so is usually working from his laptop on the sofa, so sometimes we are sitting there together, both working with laptops on our laps. But for some reason that doesn't feel right & doesn't inspire me.
So I think the fact I don't have a dedicated work space that's inspiring & comfortable is part of the reason I don't get nearly as much done as I'd like.
My mission over the Xmas break is to sort out the Purple Room and therefore sort out my desk, so that I have somewhere quiet that I can work, that has inspiring things around to keep me motivated.
How about you? Where do you do your best work? Have you ever taken your laptop into a coffee shop to work? Do you have a dedicated home office?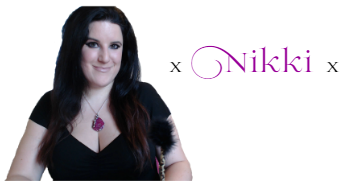 If you've enjoyed this post, I'd be grateful if you'd share it with your friends or anyone else that you feel it could help.
http://nikkistephens.com/wp-content/uploads/2014/12/Where-do-you-get-your-best-work-done-1.png
300
706
Nikki
http://nikkistephens.com/wp-content/uploads/2017/08/Enfold-logo-purple-metallic-clear-background.png
Nikki
2014-12-15 18:56:07
2016-06-30 15:25:35
Where do you get your best work done?